2021-2023 IDIBC STRATEGIC PLAN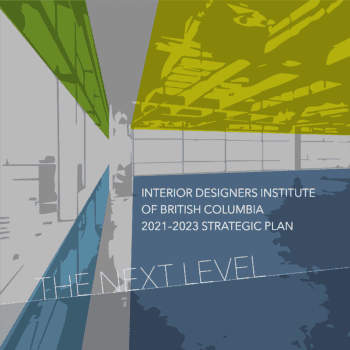 In 2020, IDIBC began an internal review of our mandate and role as a self-governing regulatory body for interior designers. The review clearly affirmed that IDIBC exists to protect public health, safety, and welfare. We remain determined to advance the interests of our members and our profession; we are committed to a regulatory framework of professional standards and protection of the public interest.
Mission: The Interior Designers Institute of British Columbia regulates the profession of interior design using a progressive regulatory framework to serve the public interest and advance the profession.
Vision: To safeguard public interest through professional regulation that promotes leadership, excellence, and the continuing education of members of the Interior Designers Institute of British Columbia.
Strategic priorities and associated operational committees:
Government Relations & Regulation
Implement a regulatory framework for the interior design profession that is transparent and accountable.
Public Confidence & Protection
Build public confidence in our members as professionals that protect public health, safety, and welfare.
Member Advancement
Foster a diverse and inclusive membership that upholds the integrity of the profession and abides by our regulatory standards.
Organization Success
Advance a professional governance structure that results in a qualified and engaged membership.
View the 2021-2023 IDIBC Strategic Plan: